Abraham Lincoln
---
Abraham Lincoln
---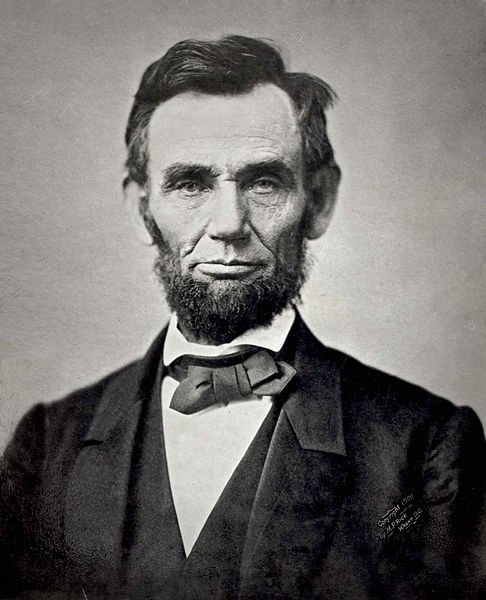 (Click to enlarge.)
---
Born - February 12, 1809
Died - April 15, 1865
Member, U.S. House of Representatives
Illinois's 7th district - March 4, 1847 – March 4, 1849
Sixteenth President of the United States
March 4, 1861 – April 15, 1865
Signature:

---
Abraham Lincoln is easily the most identifiable hero of the American Civil War (as would be expected of the leader of the victorious side of a major historical conflict). At the same time, his life's story is very inspiring as well...
He was born into backwoods poverty, became a self-educated lawyer, found success in Illinois politics, and finally won the Presidency of the United States. My favorite description of the man who would become President was written by Lincoln himself...
When asked to provide a brief sketch of his life for the Dictionary of Congress in June 1958 (just over two years before his election to the Presidency) Lincoln wrote the following:
"Born, February 12, 1809, in Hardin County, Kentucky.
Education defective.
Profession, a lawyer.
Have been a captain of volunteers in Black Hawk war.
Postmaster at a very small office.
Four times a member of the Illinois legislature, and was a member of the lower house of Congress.
Yours, etc.,
A. LINCOLN."
Abraham Lincoln also wrote two other interesting autobiographies before he was elected President. The first was a brief autobiographical sketch he wrote in 1859 for a friend who passed it along to a reporter who was doing a piece on Lincoln.
The other was a much longer, more in depth autobiography he wrote in 1860 during his Presidential campaign. It was for a campaign biography that was being put together by a Chicago reporter. Interestingly, Lincoln wrote this autobiography entirely in the third person and included some very interesting stories from his younger days.
This page is your source for Abraham Lincoln facts, quotes, pictures, information and stories. Everything can't be contained on one page, so we will be linking out to many different Lincoln related pages; but don't forget to come back to this page for more info on the sixteenth President...

Abraham Lincoln Facts
Quick Links to Sections of This Page
Basic Facts
---
Abraham Lincoln was born on February 12, 1809, in Hodgenville, Kentucky.
Lincoln received very little formal schooling, and one wrote that he believed, "...the aggregate of all his [Lincoln's] schooling did not amount to one year."
He educated himself, focusing on law.
In 1832, Lincoln volunteered to fight in the Black Hawk War, and was elected Captain of his unit. He and his men never saw action in the war.
Lincoln served in the Illinois state legislature, as a Whig, from 1834-1842.
In 1836, he passed the bar examination and began practicing law.
Lincoln served as an Illinois Member of the U.S. House of Representatives, as a Whig, from 1847-1849.
He ran for the U.S. Senate in 1854 as a Whig, and in 1858 as a Republican, losing both elections.
In 1860, Lincoln ran for President of the United states as a Republican, and was elected. He was also successful in his Presidential reelection campaign in 1864.
Abraham Lincoln was shot by John Wilkes Booth (above) on April 14, 1865, and died on April 15, 1865.
Lincoln Family
---
Abraham Lincoln was descended from Samuel Lincoln, who immigrated to Hingham, Massachusetts, from Norfolk, England, in the 1600s.
His father was Thomas Lincoln (January 6, 1778 – January 17, 1851).
His mother was Nancy (née Hanks) Lincoln (February 5, 1784 – October 5, 1818).
Lincoln had an older sister, Sarah Lincoln Grigsby (February 10, 1807 – January 20, 1828), who died in childbirth.
He also had a younger brother, Thomas "Tommy" Lincoln, Jr. (1812), who died in infancy.
On November 4, 1842, Abraham Lincoln married Mary Ann Todd (right, December 13, 1818 – July 16, 1882).
They had four children, Robert Todd, Edward Baker, William Wallace, and Thomas "Tad."
Robert Todd Lincoln (August 1, 1843 – July 26, 1926), went on to serve as Secretary of War (1881-1885) and U.S. Minister to the United Kingdom (1889-1893).
Edward Baker Lincoln (March 10, 1846 – February 1, 1850) died of tuberculosis (some suggest it may have actually been medullary thyroid cancer) before his fourth birthday.
William Wallace "Willie" Lincoln (December 21, 1850 – February 20, 1862) died in the White House of typhoid fever when he was 11 years old. 
Thomas "Tad" Lincoln (April 4, 1853 – July 15, 1871) outlived his father, but died at the age of 18 (cause uncertain).
The last direct descendant of Abraham Lincoln was Robert Todd Lincoln's grandson, Robert Todd Lincoln Beckwith (July 19, 1904 – December 24, 1985).
Civil War
---
Abraham Lincoln's election in 1860 led to the secession of several Southern states and the formation of the Confederate States of America.
Lincoln was inaugurated as President of the United States on March 4, 1861.
Lincoln was dedicated to preserving the Union; and when the Confederacy attacked and captured Fort Sumter (right), he called for 75,000 troops to put down the rebellion.
On April 19, 1861, the President issued an order to blockade all Confederate ports.
In a speech before Congress on July 4, 1861, he invoked "the war power," and called for 500,000 more troops.
He appointed General George B. McClellan to be the Commander of the Department of the Potomac on July 27, 1861.
Lincoln revoked General John C. Fremont's proclamation of emancipation for slaves in Missouri on September 11, 1861. 
Lincoln shows his intention to be very involved in the war in late 1861 and early 1862 by relieving Generals John C. Freemont and John Pope of their commands.
In September 1862, the President suspended the constitutional right to writs of habeas corpus

to, 

"all persons discouraging volunteer enlistments, resisting militia drafts, or guilty of any disloyal practice."
He replaced General McClellan with General Ambrose E. Burnside in November 1862.
On January 1, 1863, Abraham Lincoln's Emancipation Proclamation became official, freeing slaves in the Confederacy, but not slaves in the Union.
Later in January 1863, he replaced Burnside with General  Joseph "Fighting Joe" Hooker.
He replaced Hooker with General George G. Meade in June of 1863. Meade was the fifth commander of the Army of the Potomac in less than a year.
In June 1864, Abraham Lincoln signed the repeal of the fugitive slave laws.
He won reelection to the Presidency on November 8, 1864.
In February 1865, Lincoln met with Confederate Vice President Alexander Stephens for a peace conference. The conference failed.
On April 4, 1865, Abraham Lincoln visited Richmond after it fell into Union hands. He went to the Confederate White House and spent a few moments sitting at Jefferson Davis's desk.
The American flag was once more raised over Fort Sumter on April 14, 1865. That evening, John Wilkes Booth shot Lincoln in the head. 
Quotes, Speeches, and Writings
---
Lincoln's most famous speech was the Gettysburg Address. He delivered it at the Soldiers' National Cemetery in Gettysburg, Pennsylvania on November 19, 1863.
Lincoln is also remembered for the part he played in the iconic Lincoln-Douglas debates with Stephan Douglas during his failed US Senate campaign in 1958.
"Nearly all men can stand adversity, but if you want to test a man's character, give him power."

"

My paramount object in this struggle is to save the Union, and is not either to save or to destroy slavery. If I could save the Union without freeing any slave I would do it, and if I could save it by freeing all the slaves I would do it; and if I could save it by freeing some and leaving others  alone I would also do that. What I do about slavery, and the colored race, I do because I believe it helps to save the Union; and what I forbear, I forbear because I do not believe it would help to save the Union. I shall do less whenever I shall believe what I am doing hurts the cause, and I shall do more whenever I shall believe doing more will help the cause

."

"With malice toward none, with charity for all, with firmness in the right as God gives us to see the right, let us strive on to finish the work we are in; to bind up the nation's wounds; to care for him who shall have borne the battle, and for his widow and his orphan - to do all which may achieve and cherish a just and lasting peace, among ourselves, and with all nations."
"This country, with its institutions, belongs to the people who inhabit it. Whenever they shall grow weary of the existing government, they can exercise their constitutional right of amending it, or exercise their revolutionary right to overthrow it."
Lincoln Landmarks
---
The Lincoln Memorial (right) in Washington D.C. was dedicated on May 30, 1922. It was the scene of Martin Luther King Jr.'s famous "I have a dream..." speech. Above the statue of Abraham Lincoln appears this epitaph: 
"IN THIS TEMPLE
AS IN THE HEARTS OF THE PEOPLE
FOR WHOM HE SAVED THE UNION
THE MEMORY OF ABRAHAM LINCOLN
IS ENSHRINED FOREVER "
Lincoln Tomb State Historic Site preserves his burial place.
The Abraham Lincoln Presidential Library and Museum, in Springfield, Illinois, documents the life and legacy of the sixteenth President.
Lincoln is one of four Presidents who appear on the Mount Rushmore National Memorial (right).
Over the years, statues honoring Lincoln have been placed in Edinburgh, Scotland; Manchester, England; and Westminster Abbey in London, England.
The sixteenth President has also been honored with several postage stamps, and appears on both the US $5 bill and the US Penny.
Interesting Facts and Stories
---
Lincoln is the only President to obtain a patent. His patent (Patent No. 6,469) was designed to lift ships over shoals by means of a buoying mechanism. The design was never produced.
Lincoln was the first president to be photographed at his inauguration. Appearing in the same picture is Lincoln's future assassin John Wilkes Booth.
Lincoln's assassin, John Wilkes Booth, was shot and killed by a mentally unstable individual, Boston Corbett (right).
Less than a year before Lincoln's assassination, his son Robert was saved from being run over by a train by Edwin Booth, John Wilkes Booth's brother.
Robert had a connection to two other Presidential assassinations. He was an eyewitness to James Garfield's assassination, and he was present when William McKinley was assassinated.
Shortly before his death, Lincoln told some friends about a dream he'd had that seems to have foretold his own death. You can read about it on this page about the assassination. 
There was a failed attempt to assassinate Lincoln during the summer of 1864.
Lincoln is enshrined in the Wrestling Hall of Fame. As a young man, he was a prolific wrestler, losing only one match out of the roughly 300 in which he competed.
In 1876, a gang of counterfeiters tried to steal Lincoln's body from his tomb. They intended to ransom the body back for $200,000 and the release of a fellow counterfeiter.
Lincoln didn't sleep in the White House's Lincoln Bedroom. He used it as his office.
American Civil War Story - Home