Civil War Interview: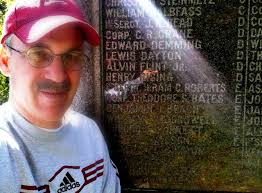 John Banks
Today we are joined by John Banks, a Civil War blogger and writer.  John has a top notch Civil War blog: John Banks' Civil War, and has also written a book about the the involvement of Connecticut soldiers at the battle of Antietam.
John has done a great deal of research on the Civil War in general, and the Battle of Antietam in particular, and he shares some interesting stories in this interview. Please enjoy!
---
1. John, thanks for your time, and welcome to American Civil War Story. Please introduce yourself, and tell us little bit about your blog, John Banks' Civil War blog, along with anything else you're up to at the moment. 
I am a long-time journalist. I have a journalism degree from West Virginia University. I have worked for three newspapers: the Martinsburg (W.Va.) Evening Journal, Baltimore News American and Dallas Morning News. I now work for ESPN, where I supervise NFL coverage on ESPN.com. I seriously started blogging about the Civil War about four years ago. It's a good release from my real job. 
2. You wrote a book called Connecticut Yankees at Antietam I believe, could you tell us a little about the book and the stories it tells? 
I have had a strong interest in Antietam since my first newspaper job in Martinsburg, W.Va., 12 miles or so from Sharpsburg, Md., site of the battle. In the early '80s, I did a story on the family that owned the D.R. Miller farm, site of The Bloody Cornfield. When I pulled up to the driveway, they had a table full of relics that they had discovered while farming that property for four decades. Gun parts, bullets, artillery fragments – you name it, they found it. It was fascinating. A few weeks later, a friend and I knocked on their door and asked for permission to relic hunt in their freshly plowed field across the Hagerstown Pike. It was private property then, of course, and perfectly legal. I found a bullet that day – I still have it – and became hooked on Antietam. When we moved to Connecticut seven years ago, I knew little about the state's service at Antietam. As I traveled through the small towns in the state, I noticed that many had a Civil War memorial. Many of those memorials were inscribed with the word "Antietam." That kick-started my interest. I began researching and posting to my blog about the common soldiers from Connecticut who fought at Antietam. It was like peeling back an onion. I'd find one story and that led to another and another. I kept finding more and more stories of soldiers, most of whom had been pushed to the shadows of history. I posted many of their stories to my blog. The History Press, my publisher, took notice and asked if I'd like to write a book on Antietam soldiers. It was a fun process. I did the research on my off days and during a couple vacations. The book isn't about strategy and tactics of Antietam. Other books cover that much better than I ever could. My book mainly focuses on the stories of common soldiers. They were farmers, laborers, blacksmiths; I even wrote about a professor named Newton Manross who was a captain in the 16th Connecticut. He was killed at Antietam. He told his wife upon enlisting, "You can better afford to have a country without a husband than husband without a country." I love that quote. I mixed in a story of a nurse (she took care of Lincoln's son in 1862) and an undertaker/coffin maker who retrieved bodies of Connecticut soldiers from Antietam. All the stories, of course, have Connecticut ties. 
3. On your blog, you mention that your favorite Civil War topic is the Battle of Antietam. Do you have a special connection with this battle, or what about it sparks a special interest for you? 
I tell people that if a soldier from 1862 were magically transported into the 21st century and visited Antietam, he would easily recognize the place. Unlike Gettysburg or Chickamauga, the battlefield is not cluttered with monuments. You can feel the history at Antietam. It's about as pristine a Civil War battlefield as you can find. The Park Service deserves a lot of credit for that. My two favorite places on the field are the Roulette Farm and John Otto's cornfield. When I visit, I often have those places to myself. Pretty special. 
4. One thing I notice on your blog is that in many of your stories, you point out the tragic consequences of war for the civilian population. Such as a pregnant widow left behind, a small town's loss of a number of young soldiers, etc. Could you talk briefly about the importance of remembering these hard parts of the war as well? 
The Civil War exacted an unbelievable toll on the Union and Confederacy. A stunning toll, really. In her excellent book, "This Republic of Suffering," on death and dying during the Civil War, Drew Gilpin Faust wrote that at least half of the 625,000 Civil War dead were never identified, a staggering statistic. A demographic historian estimated that 750,000 died during the Civil War. I don't know if many Americans have a grasp of the enormity of it. [ACWS Editor's note: Very good point. If we were to lose the same proportion of the US population in a war today, roughly 7.6 million soldiers would lose their lives.] There were few families that were not directly affected by the war. For example, I have found 20-plus sets of brothers from Connecticut who served in the Union army and perished during the war. (Another book is there somewhere!) After Antietam, funerals were held throughout Connecticut. Some soldiers died weeks and even months after the battle. On Oct. 13, 1862, about a month after the battle, the Hartford Courant wrote: "It is seldom that we are called upon to bury so many braves in so short a space of time." The awful ripple effects of Antietam were felt throughout the state. 
5. Many of your posts contain the personal letters, diaries, etc. of the soldiers or civilians you are writing about. To me, those kind of writings are a great way to see history from a more average citizen's perspective. Do you feel these types of writing help bring a new or clearer perspective to history, and what value do you take from them personally? 
Absolutely they are important. The personal letters and diaries are a terrific window into the past. And many of these sources are untapped. One day at the Connecticut History Society, I read a letter from three Connecticut soldiers to a woman back home thanking her for sending them mittens and stockings. I wrote about it here on my blog. I almost felt like I was invading their privacy. They probably were huddled in a tent to avoid the cold as they composed the letter on Dec. 16, 1861 in a camp in Annapolis, Md. The men were from Canton, Conn., near where we live. "May the richest of Heavens blessing rest upon the ladies who so kindly remember us," they wrote, "and we hope that this war soon be over and none of the Stars that now are emblazoned on the Flag of our Country be effaced and we be returned to our homes again and see our friends again in a free & united country, under the same old flag the heroes of the revolution fought under." The letter was signed by Henry D Sexton, Issac H Tuller and Martin L. Wadhams, privates in their early 20s who had mustered into the 8th Connecticut less than two months earlier. Nine months later, each soldier was dead. Wadhams was killed at Antietam; Sexton died of jaundice, and Tuller died of typhoid fever. Very, very sad stuff, but there were thousands of stories like that during the war. 
6. Many Civil War buffs (at least me) identify strongly with an individual character from the war. Do you have a favorite Civil War hero? If so, who is it and why? 
I identify with the common soldiers, not the generals. I try to put myself in the place of the lowly privates who bore the brunt of the war. I have often walked into John Otto's cornfield at Antietam and wondered, "What were they thinking? How could they do this? This is just crazy." Many of the soldiers in the 16th Connecticut, in their first battle of the war, skedaddled at Antietam. One soldier, an 18-year-old private from Wethersfield, Conn., in the 16th Connecticut, fled all the way to England. I may have skedaddled, too. It was a bloody, awful mess for those men and boys in the 16th. They were just plain scared, I think. I often think of another soldier in the 16th Connecticut. His name was Henry Adams, a 22-year-old private from East Windsor, Conn. He was shot twice at Antietam, and he lay in a cornfield for 40 hours before he was discovered and carried away to a field hospital. He suffered for years afterward because his shattered leg was not set correctly. Decades later, he wrote of the experience. I found that letter in the Connecticut State Library. Five words he wrote have stuck with me: "Why did I not die?" Those guys were the heroes. 
7. Finally, the focus of this site is stories. So, I can't end the interview without asking, what is your favorite interesting or entertaining incident or story from the Civil War? 
My favorite story is in my book. A career U.S. Army officer named John Rogers purchased a Bible for $3 in 1993 at a community yard sale in Maryland. Later, he discovered it belonged to a Civil War soldier named Oliver Cromwell Case, a 22-year-old private from Simsbury, Conn., who was killed at Antietam. He was so inspired by his discovery that he created a terrific blog that chronicles the life and times of Case, who was in the 8th Connecticut. John has even visited Oliver's grave in Connecticut and done an enormous amount of research on him. "I guess you could say that I feel called to tell Oliver Case's story," he once told me. Rogers is a Georgia native, and two of his great-great-grandfathers served in the Confederate army. One was at Antietam, serving as a sergeant in the 22nd Georgia. He may have even traded shots with the 14th Connecticut at Bloody Lane. How ironic is it that a Southerner whose ancestors served in the Rebel army is captivated by the story of a Yankee who died at Antietam? The Civil War produces a lot of stories like that. That's pretty cool. 
---
Thank you very much to John for taking the time to give such a great interview. His blog is a great resource of top notch Civil War stories, so if you enjoyed this interview, check out John Banks' Civil War for more of the same.