A Bad Time Was Had By All
by Patrick T Dougherty, Ph.D.
(Columbia Missouri)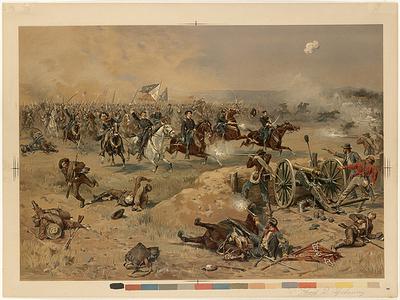 Battle of Opequon. Sheridan's final charge at Winchester
We each have four Great Grandfathers. My Mother's maternal Grandfather, William Beck, is one of mine. He stood 5 ft, 9 inches tall. He had fair complexion, blue eyes and blond hair reflecting his German heritage. The year 1862, was a turning point in his life. He had spent all of his 33 years within the broad but remote expanse of the Great Smokey Mountains in western North Carolina. He was a mountain man in the truest sense of the term. He was a person with a large extended family whose members lived within a stone's throw of one another. They included his parents, Samuel and Cynthia, and most likely many aunts and uncles and cousins. His siblings were Charity age 31, John 28, Stephen 26, Samuel 23, Sarah 21, and Cynthia 15. His wife, Rachel, was expecting her seventh child. His six children were Minerva age 12, Susan 10, Eliza Jane 8 (my Grandmother), Sarah 6, Hassie 4, and Josie age unknown. (Birthdays provided by Genealogist Kevin Beck.)


On July 19, 1862, he enlisted as a Private in the infantry of the Confederate army at Qualla Town NC. He signed up for 3 years or the duration of the war with Thomas' Legion. They assigned him to a Company where he would remain throughout his enlistment, Company F. All three of his younger brothers enlisted with him that same day and they too were assigned to Company F.
Thomas' Legion was under the command of William Holland
Thomas, a highly successful businessman, state legislator, Cherokee chief and one of the most interesting characters of the Civil War. He recruited a small battalion of Cherokees in April 1862, and gradually expanded his command with companies of highlanders from western North Carolina, eastern Tennessee, and Virginia.
Thomas' Legion was a home guard unit, protecting the local populace from northern guerillas. It had many other unpleasant duties, such as recruitment, disarming civilians, seizing private property for military use, and forcing local officials to take an oath of allegiance to the Confederacy. Some of their work was simply hard labor including building stockades and constructing a 250 mile railroad line through the area. From time to time, the Legion was involved in classic Civil War military battles.
In May of 1864, the tide was turning against the Confederacy and as a result, the Generals ordered Thomas' Legion from North Carolina to Virginia to help fill the ranks of the weakened Confederate army. The Legion's home guard operations were over.
There is plenty of information on the battles of Thomas' Legion, for example, the Battle of Cool Spring, Virginia, July 17-18. It is my belief that one of William Beck's brothers, John, was wounded in that Battle and died the next day. Genealogist Kevin Beck, lists his date of death as July 19th. We do know that Company F was involved in the Battle of Cool Spring.
When General Jubal Early aborted the campaign to sack Washington, Union cavalry approached the rear of the Confederate Army. "Old Jube" ordered sharpshooters from Thomas' Legion to engage the cavalry. Lt. Robert T. Conley and twenty-five marksmen from Company "F" of Love's Regiment were instrumental in forcing the enemy across the river. . . . Lt. Conley and Thomas' Legion were complimented for their "coolness and bravery in the Fight." (General Gabriel C. Wharton to James R. Love, December 8, 1864.)
Estimated casualties of the Battle of
Cool Spring is Union, 422, and
Confederate, 397. (Thomaslegion.net/battleofcoolspring.html, p.1.)
On September 19, 1864, William Beck, now a Sergeant, found himself in the Battle of Opequon (pictured above) also known as the Battle of Third Winchester Virginia.
"Opequon was the largest and most desperately contested battle of the Civil War in the Shenandoah Valley, resulting in more than 8,000 casualties. . . . In a brigade numbering only a few hundred, the legion was in a position on the extreme left where it had to repel an assault of several thousand cavalry." (Tomaslegion.net/conclusion.html p. 6.)
Winchester Virginia was a town of 4400, roughly the same population as today's towns of Robertsdale Alabama, Mulvane Kansas, Odessa Missouri or Aberdeen North Carolina. Its complete occupation between the Confederacy and the Union changed hands a total of eleven times during the Civil War. After the Battle of Opequon, 200 of its homes had been destroyed and another hundred were being used as field hospitals for Union and Confederate casualties alike.
Overnight the small town of Winchester became a virtual hospital. Every structure was used to house and care for the wounded. The battle had resulted in 9,000 casualties. The Confederates had suffered 226 killed, 1567 wounded and 1818 captured or missing. The Union had suffered 697 killed, 3983 wounded, and 338 missing. (Civil War in the Shenandoah Valley,1863-1865.)
William Beck was critically wounded during the one-day battle at Opequon. He was taken to Baker Mansion (pictured above), a temporary field hospital.
William stayed at Baker Mansion exactly two weeks. He was transferred to the U.S.A Depot Field Hospital on October 3rd, most likely similar to the one pictured (above).
The next day Beck was given the following diagnosis by "Surgeon Lawson," beginning with "V.S." After a great deal of research, I found a reference to medical terms during the civil war period. One such term was "Vulnus Sclopeticum" meaning "Relating to a wound caused by a gunshot wound." "V.S." is most likely an abbreviation for that medical term. The next part of the diagnosis is "comp. com. fracture Tibia & Fibula limb." I am interpreting "comp. com." To mean "compound comminuted" fracture.
The shattering, splintering, and splitting of a long bone by the impact of the minie or Enfield ball were, in many instances, both remarkable and frightful, and early experience taught surgeons that amputation was the only means of saving life. (Civil War Field and Temporary Hospitals.)
The diagnosis concludes with ". . . became gangrenous." The
treatment was to amputate his "upper leg." Under "Remarks," the doctor wrote "Pyaemia."
Pyaemia is a type of septicaemia that leads to widespread abscesses of a metastatic nature. It is usually caused by the staphylococcus bacteria by pus-forming organisms in the blood. Apart from the distinctive abscesses, pyaemia exhibits the same symptoms as other forms of septicaemia. It was almost universally fatal before the introduction of antibiotics. (Wikipedia)
William Beck died on October 26, exactly 37 days after being wounded. One thing we can conclude about my Great-Grandfather is that he had a tremendous will to live, perhaps due to a promise he made to his wife and children before he left them. He is buried in the Stonewall Cemetery, Winchester, Virginia.
(Joan Wood, Assistant Archivist, Stewart Bell Jr. Archives Room,
Handley Regional Library, Winchester VA, provided copies of records pertaining to the enlistment, physical features, hospitalization, diagnosis, medical treatment, and death of William Beck.)