---
The ACW Story: Your American Civil War newsletter.
Keeping you in touch with the history of the American Civil War.
---
Issue #6 – Oct 5, 2013
---
If this newsletter is not displaying correctly, or if you can't see the pictures, click here to see The ACW Story back issues page.
---
Hi!
Welcome to the sixth issue of The ACW Story! Thanks for checking it out, and if you enjoy it don't forget to share it with a friend.
In this months issue, we are excited to share with you our first interview, in which Civil War author and blogger John Banks sits down with us and shares his thoughts on number of Civil War topics. You can check out our new interviews page here. Hopefully this will be the first of many great interviews on American Civil War story.
***NEW!!! Share YOUR Civil War stories!***
***An opportunity for you to share your favorite Civil War stories with all our readers.***
Please enjoy this issue of The ACW Story!
---
If you enjoy the newsletter, please consider sharing it with a friend.
If you haven't already subscribed, you can do that by going here.
---
Quote of the Month
"May the richest of Heavens blessing rest upon the ladies who so kindly remember us..."
- Henry D Sexton, Issac H Tuller and Martin L. Wadhams
A quote shared with us by John during his interview. These men wrote this as part of letter thanking some ladies for the mittens and stockings they had just received.


---
Suggested Reading
Here is a selection of books we would recommend if you are interested in reading about the Civil War. The first is written by John Banks, and the other two are good sources to learn more about the Battle of Antietam.
---
John Banks Interview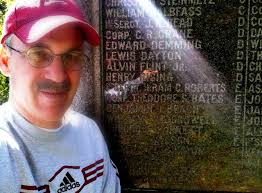 Here is the first question from our interview with John...

1. John, thanks for your time, and welcome to American Civil War Story. Please introduce yourself, and tell us little bit about your blog, John Banks' Civil War blog, along with anything else you're up to at the moment.

I am a long-time journalist. I have a journalism degree from West Virginia University. I have worked for three newspapers: the Martinsburg (W.Va.) Evening Journal, Baltimore News American and Dallas Morning News. I now work for ESPN, where I supervise NFL coverage on ESPN.com. I seriously started blogging about the Civil War about four years ago. It's a good release from my real job.

Click here to read the rest of this interview, and thanks to John for taking the time to give such great answers.

---
Question of the Month!
What Confederate General was shot five times at the Battle of Antietam?
Hint: Check out this page, to find the answer.
Give your answer by replying to the question that is posted on our Facebook page. All correct answers get to give themselves a pat on the back!
---
Research Your Family's History!
Archives.com has over 2.6 billion records, to help you trace your family tree way back through the Civil War and beyond!
-Using one search page, you will be able to find birth, death, marriage, divorce and historic vital records!
-Their database of cemetery listings, obituaries, burial and military records, surname histories, and more will help you create a even more detailed history of your family tree.
-Archives.com is a great resource for family researchers of all levels - those just starting their research, and those who are genealogy research veterans will both love this resource!


---
What else is new on the website?
See all our new and updated articles anytime by visiting our "New Stories" blog here.

---
Thanks for reading The ACW Story from American Civil War Story.
See you next month,
Mark
Subscribe to The ACW Story by clicking here.
---